I'm working on a new game in Unity3D.....
New ad:
Original artwork: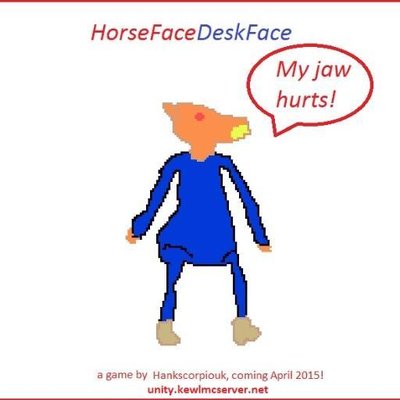 "Synopsis:  You are Horseface.  You and your friends are bored at work.  They decide to liven things up..... at your expense.  Can you survive the day without becoming DeskFace?
You are locked in the office between 9 and 5 with your coworkers chasing you round trying to smash your face into as much furniture as possible.  Everytime they succeed you lose health.  Lose enough health and you die.  Your health will replenish either on it's own and/or by finding food/medkit/bandages around the office.  Survive the day and you get to go home with a big points bonus.  Then back to work the next day.  The longer you survive the harder it gets, but the bigger your bonuses become!
There's no crafting*.  Possibly some resource collection*.  No Goddamn zombies*. 
Just lots of old-school arcade fun!"
*At least for now.

kk, so waddya think?  Would you play it?  Would you pay for it?  Shall I make it?   I've got pretty thick skin so if it's shit feel free to tell me and save me some effort.
Would you prefer to play as HorseFace or one of the coworkers?  Should HorseFace try to avoid getting smashed into furniture or actively enoucarage it?
PS good enough advice gets you a free copy when it's eventually done - and a share of royalties
Coz even if I decide it's to be free you can still make money from ads/affiliate programmes/ingame shops etc.
PPS yeah now people can steal my idea meh, whatever.  I have MILLIONS more ideas.  Besides games are overwhelmingly implementation more than idea.  Making it is the hard part even for an experienced developer like me?  Also if you donate now to my HelpBSJ cause you can get a free copy when it's ready - as well as early Alpha and Beta copies before everyone else!  You are even free to distribute those Alpha and Beta copies!
Are you an artist or animator and perhaps would like to help with this project?  You can see I can't draw for shit.  Maybe you know one who might (an artist not a shit)?
Maybe you're a musician and could write a composition for game?
Like I said I'm a pretty scarily good coder I could produce all the C# neccessarry in < a few weeks, tops.  Could you get some art done that quick?
UPDATE:  Ideally you could buy something with your points bonuses AND/OR could buy stuff with real money in the shop.  Yeah, I know that's "pay to win", but if it's on single player or on an explictly P2W server, so what?  Multiplayer would be ideal too so you can be HorseFace and others can be your coworkers.  Or you could have some people playing on your site trying to protect you.  Anything else?
How about "style-bonuses" for the particular way Horseface gets acquainted with furniture.  So that the more elaborate the throw/smash etc, the more health you lose and/or the more ponts the coworker gets?
Crafting would be ace but I suspect the game will be far too fast-paced to let you stop to craft..... but I'm open to suggestions/ideas......
Ideas for resource collection apart from food/drink, medkits, bandages etc?  Maybe a way to actively fight back and not just avoid coworkers?  Although I personally prefer game mechanics where HorseFace is constantly on the run, don't want them turning into Rambo and gunning down everyone in the office TBH.

Design motivation:  I prefer this to be more about quick reflexes / button mashing than brain power.  I want this to be an uncomfortable adrenaline-soaked experience for the user that they can't put down.  Kinda like what I hear about Flappy Bird (not played it though).  If I am wrong though I'm always willing to listen to good, level-headed reasoning.
Intended platforms:  Windows (probably not Steam anytime soon realistically - more likely Desura or downloaded from my own site), POSSIBLY Google Play too for Android devices.  No App Store - iPhone users are less than Human, I don't want their money.
I'm thinking this will be a casual game - 2D / isometric view, with a slight retro feel.  The levels will be entirely office-based with a wide variety of layouts for furniture types, furniture placements, corridors, corriidor and room placement plus dimensions.  I will most likely employ somekind of procgen for the levels.
Perhaps another mechanic could be the ability to wriggle free if they have you in a headlock / dragging you over to some furniture to smash your face into.  Also I like the idea of face becoming increasingly mangled as the day and damage progresses.  Maybe it could become possible to fix it with a Cosmetic Surrery kit etc you find lying around?
AND how about an "Antibonus" ("In America your gameshows reward knowledge, in Japan we punish ignorance!") system that penalizes the player's scoring ability the more damanged their face is?  So you really get fucked over twice.....
Something else just occurred to me; the less damaged your face is, the more likely NPCs (in the form of SJWs/manginas etc) will be to jump in the way to prevent acts of violent against you, conversely the more bruised and battered your chatacter is the less likely you are to have that help....waddya think?
Would be nice to add lots of humour elements to it too?  Any ideas? 
Any ideas for characters besides Horseface?  Am thinking of a gay couple called Rocky & Dexter - they are friends of Horseface and you also get to beat them too, but ideally something different to just furniture.... IDK what though?  Ideas?  Maybe just using kicks/punches is enough?  Meh....

People who buy in at Alpha or Beta stage will get heavily discounted offer and will also be entitled to discount of next 2 games I make after this.  Alpha will be the cheapest followed, Beta-stage version will be more expensive and final release will be most expensive.  Yeah I like the Minecraft EA model better than the Early Access model we increasingly see these days where you pay full price for what might be a very unfinished game.
/textwall
TL;DR:  Go here:  helpbsj.kewlmcserver.net - click $10 - click button - enter your credit card number - wait - tell 10 people about this page/site.
HorsefaceDeskface (c) 2015 Hankscorpiouk.  All Rights Reserved.